The Network sported the hula skirt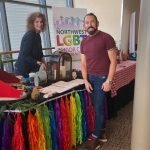 at the Washington Home Care Association's 12th Annual Conference Blooming with the Boomers. many of our colleagues and members attended this energizing, informative event.
The Network took a table at Swedish Medical's Third Annual LGBTQI+ Health Symposium: Health Disparities in Marginalized LGBTQI+ Populations on Friday, April 12, 2019.
The Symposium was designed to identify and evaluate the barriers to care and other healthcare inequities faced by marginalized populations within the LGBTQI+ community. Roundtable panel sessions with representatives from advocacy organizations and didactic lectures from expert faculty evaluated how intersectional identities affect the healthcare experience for LGBTQI+ patients and explored ways in which healthcare professionals can improve their patient care and outcomes, as well as advocate for their patients in practice. Topics of focus included Intersex persons, communities of color, refugees, HIV and substance abuse in LGBTQI+ patients.
Ulysses Burley, III, M.D., UBthecure
HIV in LGBTQI+ Communities of Color
Aleks Martin, MSW, CDP, Seattle Counseling Service
Substance Use in the LGBTQI+ Community
Marsha Botzer, Ingersoll Gender Center
Monisha Harrell, Equal Rights Washington
Katie Hultquist, OutRight Action International
Treasure Mackley, Planned Parenthood of the Greater Northwest and Hawaiian Islands
David Ward, Legal Voice
Elayne Wylie, Gender Justice League
Roundtable Panel Discussion - Local, State & National Threats for LGBTQI+ Communities
Charissa Fontinos, M.D., MS, Washington State Health Care Authority
Updates from Washington State Health Care Authority
Itai Jeffries, Seattle Indian Health Board
Tai Jordan, Pride Foundation
April Nishimura, Rainier Valley Corps
Steven Sawyer, POCAAN
Martha Zuniga, Entre Hermanos
Roundtable Panel Discussion - Communities of Color within the LGBTQI+ Population
Karen Fredriksen Goldsen, PhD, Aging with Pride
LGBTQI Health Equity: Addressing Health Disparities Across the Life Course
Amanda Saenz, InterAct
Care of the Intersex Community
Lina Ali
Miguel Angel Duncan Bravo, YWCA Seattle King Snohomish
Eric Holzapfel, Entre Hermanos
Aleks Martin, Seattle Counseling Service
Macland Nyaga, Fred Hutchinson Cancer Research Center
Stephanie Wang
Caring for Refugee LGBTQI+ Patients
All Speakers
Roundtable Panel Session - How Healthcare Providers can Advocate for Their Patients in Practice
The conference was intended for all healthcare professionals including physicians, ARNPs, PAs nurses, allied health professionals, administrative leaders, patient health advocates and residents/fellows from Washington, Alaska, Montana, Idaho and Oregon.
Dr. Kevin Wang and his extremely efficient staff coordinated the day.
We enjoyed an extremely productive day networking with other active, engaged, pioneering service providers in the Puget Sound Region, including the speakers and representatives from Camp Ten Trees, Lambert House, Cedar River Clinics, Planned Parenthood of the Great Northwest and the Hawaiian Islands, Entre Hermanos, POCAAN, Gay City, Seattle Children's Hospital, Gender Diversity, Seattle Counseling Service, the Gender Justice League, Virginia Mason, Ingersoll Gender Center, and Kaiser Permanente.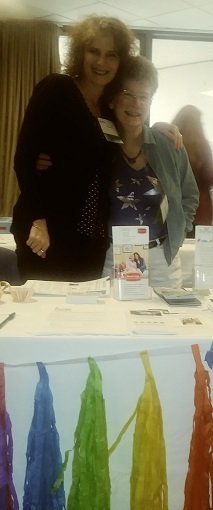 Tiffany Kopec, Home Care Assistance, and Lauren Williams, Casual Uncluttering, representing the Network. Thanks also to Lisa Satin, The Right Place Senior Options, and Annie Jacobsen, Dementia Care Coaching, for coordinating registration and supplies. We are particularly fond of the rainbow hula table skirt.