Tuesday, February 5, 2019
6:00PM - 8:30PM
$26.00
Marilyn Paul, Ph.D. author of You Can't Make a Difference When You Can't Find Your Keys, will be discussing her latest book An Oasis in Time: How a Day of Rest Can Save Your Life
Hotel 115
625 116th Avenue NE
Bellevue, WA 98004
425-455-9444
hosted by the Seattle Area Chapter of the National Association of Productivity and Organizing Professionals (NAPO)
to pre-register or for more details, please follow the link.
Saturday January 19, 2019
6:30PM - ?
R
A
I
N
B
O
W
B
I
N
G
O
Starring Local Celeb Sylvia O'Stayformore
Edmonds Lutheran Church
23525 84th Avenue West
Edmonds, WA 98026
425-744-8090
office@edmondslutheran.org
GREAT PRIZES!!
Tickets at the door, cash or card
$20 adults
$5 children 12 and under
$45 family
Tickets include food and drink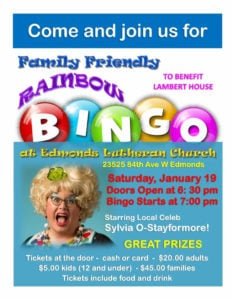 Please feel free to post the  flyer.
Aging with Pride: IDEA
Are you or a loved one experiencing memory loss?
Aging with Pride: IDEA (Innovations in Dementia Empowerment and Action) is an exercise and problem-solving program for older adults with memory loss and the people who help them. Learn about the program and join by contacting us at (888) 655-6646 or ageIDEA@uw.edu.
Aging with Pride: IDEA is the first federally-funded project testing a program designed to improve quality of life for LGBTQ people who experience memory loss or who help those experiencing memory loss. Participants are compensated for their time.
The study takes place in the Seattle, San Francisco, and Los Angeles metropolitan areas. Older adults with memory loss can participate with an informal care partner, who may be a spouse or partner, friend, family member, or anyone who assists them. Either the person with memory loss or the person who helps them (or both) must be LGBTQ. Participants meet with a coach to learn exercises and strategies related to memory loss. The program includes 9 in-person sessions with the coach over 6 weeks, with follow-up phone calls.
IDEA is led by University of Washington School of Social Work professor Karen Fredriksen Goldsen and UW Nursing professor Linda Teri. Dr. Fredriksen Goldsen is the primary investigator for Aging with Pride: National Health, Aging, and Sexuality/Gender Study (NHAS), the first national longitudinal study of health and well-being in LGBTQ older adults, and Dr. Teri pioneered the RDAD (Reducing Disabilities in Alzheimer's Disease) program, which has been shown to improve quality of life for people with memory loss and reduce rates of institutionalization.
Click for our flyer, postcard, and business card, or contact us if you want some mailed to you.
Contact Us!
1-888-655-6646
Holy Cross Lutheran Church
4315 129th Place SE, Bellevue 98006
Tuesdays, Thursdays, and Fridays
10:00AM  - 3:00PM
Call 425-681-9776 for more information
Alzheimer's Cafes
Alzheimer's Cafe's are fun outings for people who are living or caring for someone with Alzheimer's or other dementia.
Come to socialize in a relaxed setting with a supportive, accepting group. Enjoy a meal and entertainment.
Free (except for cost of food purchase.)
Every 2nd Wednesday
3:00PM – 4:30PM
Mo's Pizza
2630 77th Avenue SE
Mercer Island, WA 98040
Info: Carolyn Kelso, 206-356-0271
Every 3rd Tuesday
3:00PM - 5:00PM
Thorndike Room in the Woodshop Restaurant of
McMenamin's Anderson School
18607 Bothell Way NE
Bothell, WA 98011
Info: Heather Steele, 425-485-9797, hsteele@seattleymca.org
Every 4th Tuesday
3:00PM - 5:00PM
Tutta Bella Neapolitan Pizzeria - Crossroads
15600 NE 8th Street, Suite J1
Bellevue, WA 98008
Info: Cheri Pamer, 425-830-0902, cpamer@seattleymca.org